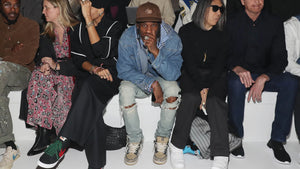 TRAVIS SCOTT
Travis Scott, whose real name is Jacques Berman Webster, is an American rapper, producer and musician born in Houston in 1992. As a teenager, he began dedicating himself to music by creating beats and then releasing various rap projects. In 2013 his album Owl Pharoah was released, the first of a long series of successes. From the beginning, the rapper was noted for his particular style of clothing. He is known for mixing streetwear with high fashion pieces.
He has an exceptional collection and does not hesitate to wear ultra-rare models during public appearances. As his fame grows, he is increasingly present in the fashion world. He has made numerous appearances at fashion shows such as Louis Vuitton and Dior. Little by little, the rapper became a real trend-setter. His attraction to fashion quickly led him to the other side, that of stylists. The first designer to see his potential was none other than Helmut Lang, who offered him the opportunity to collaborate on two designs. Travis Scott's career as a designer was launched, but it didn't stop there, and many other designs followed. THE CONSECRATION: NIKE
What's cooler for a sneaker fan turned designer than collaborating with Jordan? This consecration arrived in 2017 for the rapper with the creation of the Travis Scott Although created just for friends and family, the pair caused quite a stir. That same year, Nike asked several artists to create their own pair of Nike Air Force 1s for the model's 35th anniversary. While artists like Don C and Errolson Hugh have created their own duo, it's Travis Scott and Virgil Abloh that have garnered the most attention. With this success, Travis Scott persevered and signed his first pair of his own with the Travis Scott Today Travis Scott is known throughout the world not only for his music but also as a stylist. He has designed many highly successful models for the general public and continues to collaborate with Nike on new projects.