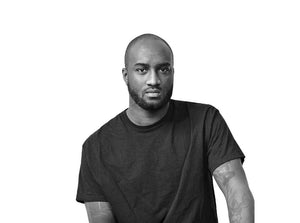 VIRGIL ABLOH
There's a name almost as synonymous with Nike and the Jordan Brand as Michael Jordan himself: Virgil Abloh. Born in Chicago, Abloh is the American dream personified. The son of Ghanaian immigrants, Abloh earned degrees in civil engineering and architecture and made his way into the world of fashion. He started out designing T-shirts at a Chicago print shop. He later became artistic director of Louis Vuitton and founded his own label, Off-White.
His style effortlessly marries high fashion with streetwear.
It's his work with Nike, however, that has solidified Virgil Abloh as a rock star in the eyes of sneakerheads. Abloh has made his own contribution to the most iconic Nike sneaker designs, he has always been a fan of Nike sneakers, describing himself as "... a kid who slept with a Jordan at the end of the bed just so he could see it in the morning."
He once told the media collective Complex: "Me and my friend Chris Eaton were so obsessed with Jordan that we were designing Nike shoes and sending them to Nike. And Nike said, "Oh, we don't accept projects."
But in the end Nike accepted his plans.
Abloh's collaboration with the brand began in 2017 with "The Ten" collection, a partnership that produced some of the most coveted sneakers of all time. In that release, Abloh deconstructed 10 Nike sneaker models, literally. His hands-on creative process includes the use of markers and cable ties. He described the end result to Nike News by saying "what we're talking about here is bigger than sneakers, it's bigger than design culture. It's nothing short of cutting edge design.

Abloh's take on Nike sneakers ranged from some of the most iconic shoes in the Nike collection to new designs that needed an update. His design philosophy follows what he calls the "three percent rule," making minimal changes to improve the overall design. Abloh's Off-White label has attracted a cult following from some of the biggest names in pop culture: Justin Bieber, A$AP Rocky, Bella Hadid, Kylie and Kendall Jenner.